Omni-Channel Contact Center
The Omni-Channel Contact Center
Today's customer interactions are more complex than ever. Consumers expect support in any channel they choose including voice, email, text, chat, social, video and more. Omni-channel contact center services can help provide a better customer experience.
---
Optimizing the Customer Journey with Omni-Channel Solutions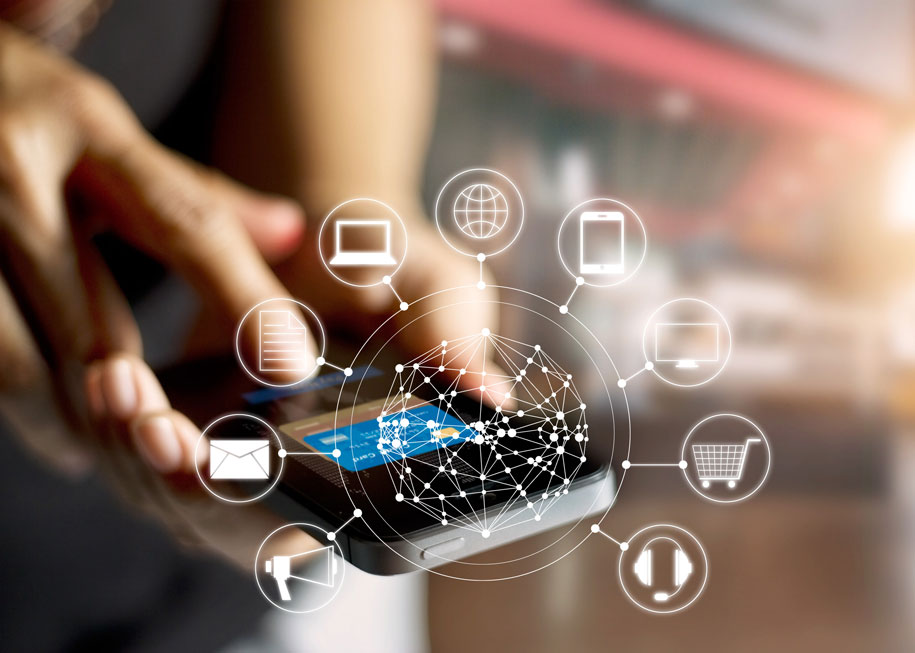 Not only are there dozens of channels being used today (phone, sms, IVR, chat, email, web, social, kiosk, etc.), but most of these channels are disconnected from one another creating customer experience breakdowns as customers move from one channel to the next in search of support.
It can be extremely frustrating for customers to have to repeat the nature of their contact or account information and you've probably heard the frustration through statements such as:
"I already answered these questions on your web/chat/IVR, why do you need me to answer them again?"
Rather than bringing the conversation back to square one and aggravating the customer with disconnected channels, omni-channel solutions show you the complete customer journey changing the conversation from, "why are you contacting us today?" to "I see you were attempting to find additional information on our website, were you able to find the information you were looking for?" This type of interaction can go a long way in showing customers that you value their time and understand their issues.
In essence, omni-channel contact center solutions help bridge the gap- and the customer journey - collecting customer data generated across various touchpoints, devices and channels to create a single, unified view of your customer's journey resulting in:
Higher Customer Satisfaction Scores
Higher First Call Resolution
Higher Customer Retention
Higher Profit Margin per Customer
If you're interested in learning more about omni-channel solutions, Contact Us or Request A Quote for outsourcing your omni-channel services.
Selecting the Right Channels for an Omni-Channel Approach
Customers expect your Agents to know who they are, which products they own, and have insight into their prior interactions and history - regardless of the service channel they communicate with you on.
Providing only a 1-800 number and email address doesn't suffice anymore, particularly for younger audiences. Make sure you meet your customers where they are. Take an in-depth look at your customers and what types of communication preferences they have - text, social and self-service are becoming the most popular in today's culture.
However, before making technology decisions about which service channels to use, take the time to carefully evaluate the right channels to support by looking at current usage, metrics and FCR by channel. In situations where this seems overwhelming or out of your scope, our team of Contact Center Consultants can help you identify which channels are right for you.
Contact Us or Request A Quote to receive an in-depth consultation and identify which service channels are right for your organization and customers.
Big Data, Big Insights
The value of omni-channel contact center extends beyond providing a seamless customer experience, it's about integrating information to continually evolve and enhance the customer experience.
Omni-channel analytics can provide valuable insight into each customer's journey identifying why the customer reached out, which channel they choose to reach out on, and which channel the issue was utlimately resolved on. Leveraging this data, especially with the help of predictive analytics, can identify cost-saving opportunities, areas for self-service as well as breakdowns and bottlenecks in the customer journey.
Additionally, CRM data can add insight about which products a customer currently has, the stage of the lifecycle, value of the customer, etc. This data allows employees to deliver interactions that customers expect resulting in:
Increased Customer Satisfaction
Reduced Customer Effort
Increased Agent Productivity
Reduced Operational Costs
When Agents can deliver these types of experiences based on channel usage, it demonstrates to the customer the company knows who they are, and is able to provide them with intelligent support to address their needs. This level of advanced knowledge and relevant support can strengthen both trust and loyalty between your brand and your customers.
Looking for Help?
The Connection® operates U.S. based call centers providing outsourced call center solutions and consulting services for internal centers. We can provide:
U.S. Based Call Center Outsourcing - Companies who utilize our outsourced call center services receive omni-channel solutions available 24/7 as part of their package, among other technology solutions. Check out our list of the most popular service channels and call center services.

Call Center Consulting - We offer call center consulting for internal centers who are interested in elevating operations and Agent performance. As part of our services, we can assist with evaluating current service channels as well as evaluating, analyzing and implementing omni-channel solutions into your existing center.
Contact Us or Request A Quote for more information.